Imagine a world in which we could speak to plants. Imagine a world in which you could plug a climate recipe in and grow a plant. Imagine a world in which we could send plant information internationally instead of actual plants. Caleb Harper, a research scientist at MIT's media lab and the founder of the CityFARM research group, envisioned a world just like this one and has actually been successful in making it a reality!
Caleb Harper got his bachelor's degree from Washington University in St. Louis and his master's degree from MIT. He is a consultant to many development agencies that work on low income housing projects. He has also worked on development projects in the high tech space industry, including health care.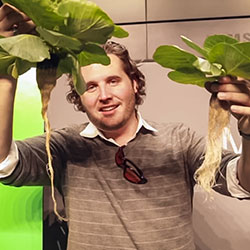 Caleb saw that in the world, we could not balance having too much food, or too little food, or GMO's that help, or GMO's that hurt. He asked himself, "What if climate was democratic? What if each country had its own productive climate, what would that change about quality of life and nutrition?" He saw a problem with the way that the world operated with regards to agriculture and food production and decided to solve the problem. He decided to build a digital farm and send food through particles in the air. This way, people didn't need to wait for their groceries to be picked from some far around the world and then get stuffed with preservatives to last the journey, people could have fresh groceries in the house in just a day. He also saw that farming was not a very attractive field to go into as an occupation, and many young people did not want to take up farming. To combat this pattern, he realized that making it more technological would attract the younger population.
Caleb saw a problem and used his creativity to think outside of the box to come up with a solution, and even the scientists in his field saw how amazing his ideas were.
He set out to build a farm in a digital media lab and succeeded in doing so. His farm was enough to feed about 300 people and could be harvested once a month. He saw that when plants were grown in a malign climate to their growth, they would turn sweet to protect themselves. This showed how much climate had an impact on the plants. In this digital farm, Caleb was coding climates to express nutrition, shape, color, and texture of a plant. He had IP addresses of each of his plants, and each came with a profile. This profile showed downloadable progress of each plant, and any problems it was having, such as too much water or too much sun. With this new technology, plants could essentially talk to the farmer.
He made a computer database that operated kind of like a game where kids could try out different types of environments and grow different types of plants. This was the first time some of these kids had even thought about farming as a profession or farming at all.
Ultimately, Caleb's goal is to be able to put climate recipes that people, with their own personal food computers, can pull up and grow in their house. We could send information about food instead of actual food to make it healthier.
A Food Computer
Building a digital farm in urban settings is a concept that I never thought was even possible. Sending food particles digitally was never something I thought would be achieved! Caleb, however, was really creative in that he saw a problem with the way food was being produced and created a digital farm and revolutionized the farming industry. Simonton describes a creative idea as "having the joint properties of novelty or originality and utility and usefulness," and I think this describes Caleb's idea of an urban farm (Simonton, 494). His idea is original, no one has successfully achieved an urban farm that programs food, and it is useful, in that it'll make food healthier and farming a more attractive occupation for youth.
Here is the link to the TED talk he gave:
Sources: