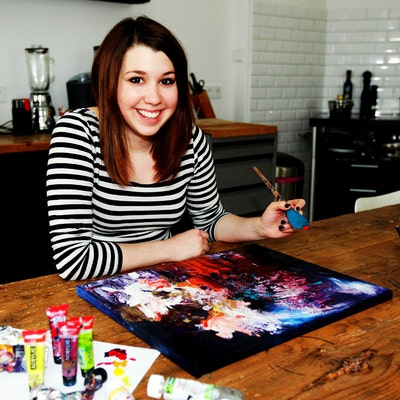 Missouri-based artist Melissa McCracken paints music. McCracken is a synesthete – she can see colors in the sounds she hears. Hearing someone's name or a song on the radio isn't just noise to her, but interpreted as vibrant colors in her brain.
It wasn't until she was 15 years old that McCracken realized she was different. One day, she asked her brother what color the letter "C" was, and then realized that not everyone "saw" what she did. In regards to her condition she writes, "Each letter and number is colored and the days of the year circle around my body as if they had a set point in space. But the most wonderful 'brain malfunction' of all is seeing the music I hear. It flows in a mixture of hues, textures, and movements, shifting as if it were a vital and intentional element of each song. Having synesthesia isn't distracting or disorienting. It adds a unique vibrance to the world I experience."
Untitled
Although she graduated with a BA in Psychology in 2013, McCracken decided to pursue a career in the arts. Each of her paintings shares a title with a piece of music, because she paints the colors and textures she perceives as she listens to that particular song. Utilizing oil and acrylics, her creative goal is to allow a refreshing experience with the familiar, and to evoke new perceptions of rhythm and melody in her audience.
Tonight, Tonight - Smashing Pumpkins
Synesthesia is a neurological phenomenon that is thought to affect an estimated 7% of the population. Other artists, such as Kanye West, have claimed to have synesthesia. Though I wouldn't necessarily consider synesthesia to be a mental illness, it relates to mental illness in that it allows a person to be creative in a way that other people might not be able to access. Andreasen describes that many of her subjects thought that their creative ideas were "obvious." In the same way, McCracken's synesthesia makes her artwork obvious to her, but others fail to connect music with color in the same way. Also, McCracken's experience has been isolating for her, similarly to how many mentally ill creatives feel isolated in their experiences. She has only met one other women with the same kind of synesthetic perceptions as her own.
McCracken's paintings are on display at Hilliard Gallery in Kansas City, Missouri, and are available for purchase on Etsy.
Sources:
Andreasen, N. C. (2015, August 26). Secrets of the Creative Brain. Retrieved April 12, 2017, from https://www.theatlantic.com/magazine/archive/2014/07/secrets-of-the-creative-brain/372299/