Last week in class, we briefly noted that, for the most part, Broadway musicals tend to have a pretty high rate of failure and a pretty low rate of reaching phenomenal success. Even when a musical is considered a commercial and critical success, it's pretty rare that it becomes popular or well-known outside of the niche area of musical theatre (you probably haven't heard of last year's Tony Award winner for Best Musical
Fun Home
unless you're already into Broadway, for example). Even among more widely popular musicals, many are either popular by their sheer longevity (Wicked, Phantom of the Opera, etc.) or because they were almost guaranteed to be successes (e.g. The Lion King for being based on a wildly successful movie or Book of Mormon for being written by the creators of South Park), and few musicals become immediately culturally relevant on their own. One musical is starting to break that mold.
In the first week it went on sale, the soundtrack for the Broadway musical
Hamilton
debuted at no. 12, the highest debut for a cast recording in over 50 years, and has been sold out for almost the entirety of its run since it opened on Broadway in October 2015. In addition to its wild commercial success, Hamilton also breaks the mold in its content: the cast is almost entirely comprised of black and Latin@ actors despite being about the founding fathers of the United States, so that the play is "America now, telling the story of America." Additionally, the show's music is almost entirely comprised of hip-hop and rap songs, breaking the norms of more "traditional" show-tunes and rock ballads that seem to saturate Broadway today. So who's behind this ground-breaking rap musical about Alexander Hamilton? That would be playwright and lyricist Lin-Manuel Miranda, who also stars as the title character in the show.
Miranda grew up in a primarily Puerto Rican neighborhood in northern Manhattan (though he frequently visited his grandmother in Puerto Rico during summers), and as a theatre major at Wesleyan University, he helped found a hip-hop comedy troupe and wrote, directed, and acted in several musicals. After his graduation, he worked for several years on his first Broadway musical In The Heights, which went on to win a Tony Award for Best Musical. His work on all of these projects over the years helped to lead him to a sort of "domain expertise" that Simonton describes as one possible approach to understanding creative geniuses, laying the groundwork for the creativity that would lead to Hamilton.

While in the airport about to leave for a vacation from acting in In The Heights in 2008, around 10 years after his freshman year of college, Miranda decided to purchase a copy of Ron Chernow's comprehensive biography of Alexander Hamilton to read while away. After quickly finishing it, he immediately began work on developing the musical adaptation that would become Hamilton. Drawing again upon Simonton's explanation of the domain expertise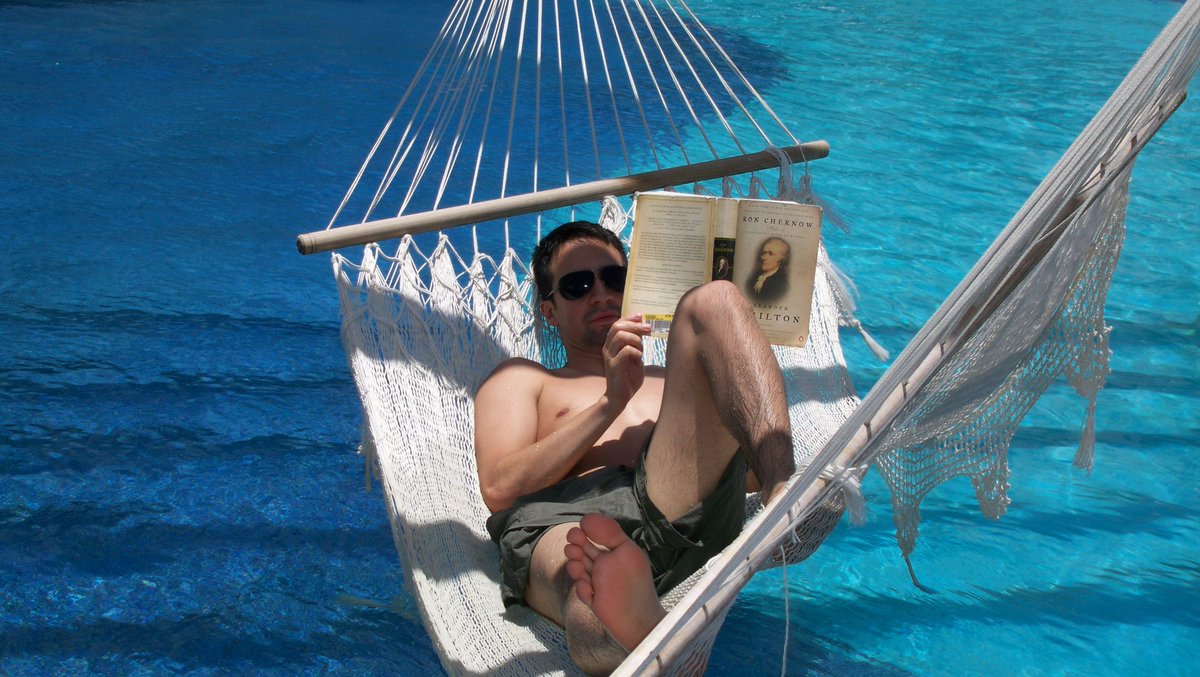 Lin-Manuel Miranda reading Alexander Hamilton on
that fateful vacation

approach, education and experience needs to develop over at least a ten-year period before one can be considered enough of an "expert" for the fruits of genius creativity to truly be developed. Though Miranda wrote and worked on many shows in college and achieved success with In the Heights, it was not until he had been seriously working in theatre for 10 years that he was able to create a show like Hamilton that has already become so culturally relevant in its six-month run thus far.
-------------------------
Works Cited
http://www.billboard.com/articles/columns/chart-beat/6722015/hamilton-cast-album-billboard-200
http://www.playbill.com/article/beach-read-to-broadway-how-lin-manuel-miranda-turned-a-history-book-into-hamilton-com-355514
http://www.vulture.com/2008/03/linmanuel_miranda_of_in_the_he.html
Simonton, Dean Keith. Genius, creativity, and leadership: Historiometric inquiries. IUniverse, 1999.