When people use the term "Science Fiction" what usually comes to mind is a picture of man in the future, or an approximation of that.
Star Wars,
Star Trek, Blade Runner,
the
Foundation Trilogy
and a huge anthology of other works from every genre, spanning from the fantastic to the technically precise. Science fiction has the power to teach us a great deal, not only by reinforcing the scientific knowledge that we currently possess, but also by providing concrete demonstrations of the implications of science and technology.
Paleontology, it would first seem, is not terribly suited to Science Fiction.
Jurassic Park
comes to mind, of course, but even that is as much about the actions of man, and the potential consequences of irresponsible genetic engineering than it is about the dinosaurs themselves. For most people, the discipline of paleontology leaves little material for the Scifi author.
Dougal Dixon is not most people, however.
I'm not sure if the puppet is involved in his creative process, but it's entirely possible
Dougal Dixon, a Scottish master in paleontology from the University of St. Andrews first took his knowledge of biology, geology and evolution to write the strange and wonderful mock-zoology book
After Man: A Zoology of the Future,
published in 1981 (A fully online version of the book can be found
here
). Dixon's initial ideas were inspired by the crab-like inhabitants of the dying earth in H.G. Well's classic
The Time Machine,
a childhood favorite of his, but the main catalyst of the idea, Dixon cites, was the following exchange with his father:
I remember in particular the 'Save the tiger' campaign. I was watching a TV programme about tiger conservation with my Dad, he turned to me and said "Why save the tiger? The tiger will become extinct. Everything becomes extinct, other things evolve". And I thought – that's a very unhelpful attitude, but it basically started me on a learning curve about evolution, and I essentially realised that he was right: everything does become extinct, other organisms develop to take their place. And I began to think to myself – just as idle musings – if things do become extinct, what evolves to take their place?
The book itself, after spending some time reviewing the evolutionary process and lineage hitherto, jumps 50 million years into the future. Mankind, and all of its dependent species, has long died away. The legacy of the Holocene lives on, however, as the many familiar orders of are now extinct: true carnivores, simians, pachyderms and whales, along with many others, have all perished in the Holocene extinction. Even the land itself has changed drastically: Africa, Eurasia, North America and Australia has fused into a single continent, while South America and East Africa (now Lemuria) have become isolated island continents
It's a brave new world
But while the animals familiar to us have passed their ecological niches remain. The animals that survived: rodents, rabbits, birds, bats, and other creatures, well adapted to the human world and undomesticated, grow and take on new shapes to fill the gaps in the world ecology. Some, like the Rabbuck, a large, camelid like browser descended from rabbits, and the falanx, a pack predator descended from rats, take on familiar shapes and roles.
Just another day in the future
Other creatures, such as the infamous Night Stalker, a bat-descendant from the volcanic, Pacific island of Batavia are truly bizarre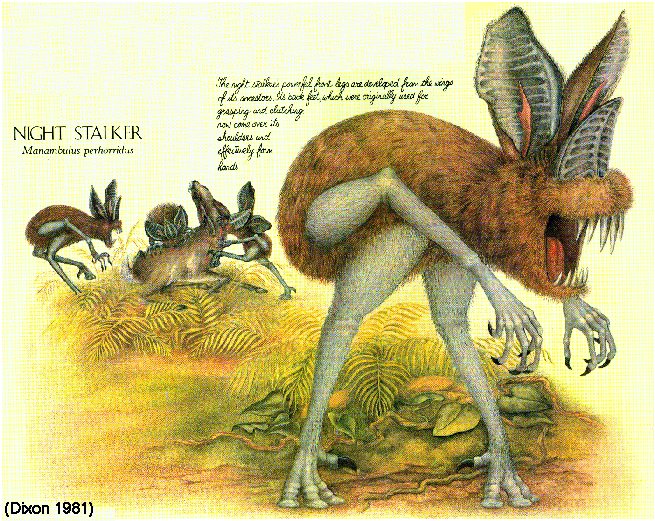 Damn, future nature, you scary
Sorry, the Night Stalker is a bit too creepy. Here, have a mountain-dwelling Parashrew:
I don't really have anything to add here: just look at this thing
After Man
was the founding work in the scifi subgenre of Speculative Evolution (also called Speculative Biology and Speculative Zoology). The idea is not just to come up with fantastical new creatures, but to make sure that they are grounded in plausible evolutionary biology. As a work, it can teach us to reach out beyond our expectations of what is possible and normal. It can demonstrate the power of evolution to create amazing adaptions, and at the same time show the power of convergent evolution to limit the possibilities of adaption to ways which don't seem so divergent as they first appear.
Dougal Dixon, drawing on his technical knowledge as a paleontologist and an inventiveness that belies his visual-spacial and logical intelligence, created a grand thought experiment, spanning the domains of zoology, geology and science fiction. The ability to conceptualize of an entire world's worth of new animals, not only creative, but also within the realms of biological possibility and evolutionary probability, demonstrates his well honed divergent thinking.
Dixon, largely considered to be the Father of Speculative Evolution, has created, collaborated and inspired many other works of this kind. Other works of his include
The New Dinosaurs: An Alternative Evolution
, a book exploring a world where dinosaurs didn't go extinct,
Man After Man: An Anthropology of the Future,
a horrifying book narrating future-man's use of genetic engineering to combat a failing global environment (and, by Dixon's own admission, a "disaster"). Some other works include
Future Evolution
by Peter Ward,
The Last Dragon
a 2004 BBC documentary and
Alien Planet
a 2005 Discovery documentary. Weta Workshop, Peter Jackson's go-to special effects studio, was innspired by
After Man
and
The New Dinosaurs
when designing the Skull Island monsters for the 2005 version of
King Kong,
and Dougal himself served as a consultant for the 2003 discovery documentary
The Future is Wild,
as well as writing the consulting book.
Would there ever been the subgenre of Speculative Evolution without the creativity and inter-disciplinary skill of Dougal Dixon? I mean, probably, but the point is that he did it first, so he gets the credit. Good work, Dicky.