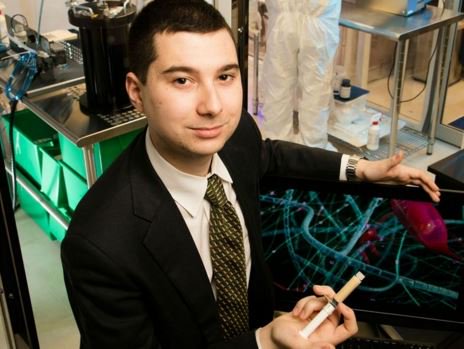 By now, we have all heard of or have had accidents in which the blood just does not stop flowing. Some of those injuries probably required immediate medical attention. Now, think of an injured soldier in the battlefield with only minutes left to live due to the excessive bleeding. When every hope is gone of getting immediate medical care for the wound, the soldier pulls out a gel, injects it into the wound, and the blood stops promptly.
These were the ideas that Joe Landolina, a 17 year-old at the time, thought of as he discovered VetiGel. He is now the CEO of Suneris, a company dedicated to manufacturing and modifying the gel to eventually make it approved and available for use in humans.
Although this is a huge innovation for the many different fields, the science behind it is very simple. The gel is made from tiny polymers, which are extracted from breaking down algae. The polymers work synonymous to Lego blocks.

Extracellular matrix is different in different parts of the body so Landolina created a product that can reassemble itself and react with the local extracellular matrix, just like Lego blocks together. The gel will work with the difference extracellular matrix of the wounded location. Immediately after contacting the damaged tissue (skin or organ), the gel will instantly transform into a mesh-like structure, which also help the body's natural process in wound healing. The gel helps the body produce more fibrin to close the wound faster. Since fibrin functions to repair tissues over time, VetiGel will not only close to wound but it will also help heal the wound. Bleeding will stop and will remain stopped due to the high clot strength

as well. Although simple in explanation, it is impressive for a 17 year-old undergraduate to discover it.
As discussed by Collins and Amabile, three important components in creativity are "intrinsic task motivation, domain-relevant skills, and creativity-relevant processes." Landolina undoubtedly fits into all of these. His intrinsic motivation is to ultimately have these products out so that it can be used on humans and animals (pets, wild animals, and more). He is striving for an innovation in the medical field to provide that immediate medical care when a person has less than 3 minutes to live. He possesses domain-relevant skills since he created the VetiGel in this grandfather's winery lab alone after noticing the polymer characteristics of algae. He also has creativity-relevant processes since he is planning to use VetiGel for many different purposes. Beyond stopping traumatic blood flow, he envisions this gel to treat burns and assist in the regeneration of organs. He is solving many crucial problems with one type of gel.
As of now, this gel is not available for human use but the company and Joe Landolina are both working hard to make it a reality. However, the gel is used in some veterinarian offices and is in hopes to expand. Maybe in the future, we will all have some VetiGel handy in our own first aid kits.
Collins, M. A., & Amabile, T. M. (1999). Motivation and creativity. In Robert J. Sternberg (Ed.) Handbook of Creativity. New York: Cambridge University Press.